Why SENNEBOGEN: Efficiency
E-Series SENNEBOGEN material handlers are good for the environment, easy on the budget
Fuel Efficiency
The new "Green Efficiency" package delivers a Cummins-powered Tier 4-compliant design that cuts emissions by as much as 90% while dramatically reducing fuel costs. Clean electric-drive models offer further savings to maintenance costs of up to 50% with their low noise, vibration free operation.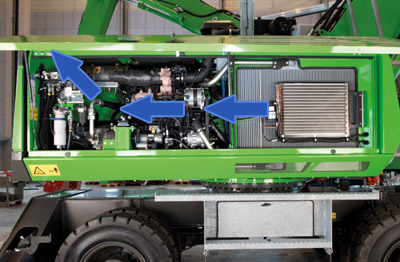 With the engine mounted longitudinally, the turbo intercooler provides natural, flow-through cooling throughout the engine compartment.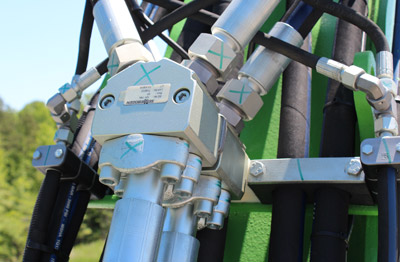 Optimized hydraulic oil flows using 45° connections result in reduced pressure loss, generating less heat and leading to lower fuel consumption.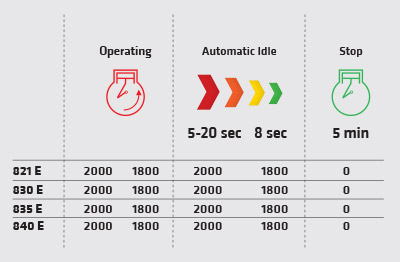 With Eco mode turned on, the operating engine rpm is reduced automatically to 1,800 rpm without affecting the automatic idle-stop function.
The new generation of SENNEBOGEN machines features the innovative
Green Hybrid system
, which recovers up to 30% of lifting energy generated by the boom to reduce fuel costs and emissions.
Production Efficiency
Purpose-built for pick & carry and lifting applications, SENNEBOGEN machines outperform larger machines with operator-friendly controls, high-speed mobility and fast duty cycles on every load.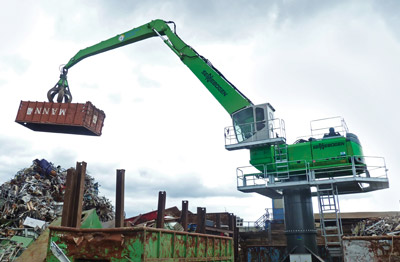 Purpose-built green line machines are engineered to optimize their hydraulics and power to lift and swing loads more efficiently than earthmovers designed for digging or scooping.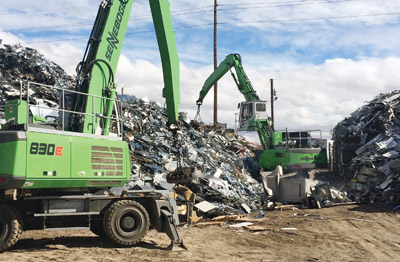 The ability of SENNEBOGEN green line machines to lift weight equally over all sides, through 360°, is ideal for the tight working conditions in scrap yards and lumber mills.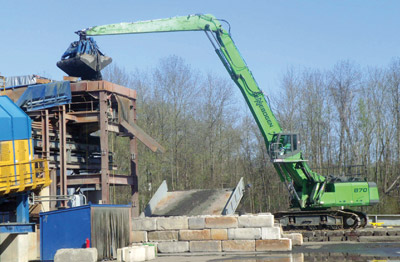 Large powerful swing bearings and purpose-built booms result in fast duty cycles that move more material in less time than many larger machines.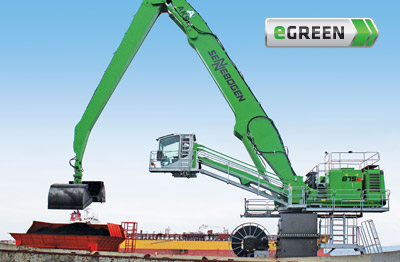 SENNEBOGEN's full range of electric drive machines can operate 24/7 shifts without stopping to refuel and with minimal downtime for servicing.