Marine Cranes for Ports & Barge Facilities
SENNEBOGEN is changing the landscape along American waterways with innovative material handling technologies applied to the industry's largest and most productive marine cranes and barge handlers.
The new generation of green machines, ranging from versatile mobile units to towering equilibrium cranes, means facility operators in ocean ports and river ports have more ways to maximize throughput and reduce demurrage costs.     
Moving aggregates or portland, fertilizers or grains, metals or wood products, SENNEBOGEN has the solutions to keep supply lines flowing.
Barge Facilities
Elevating, forward-moving maXCabs give operators a direct view into holds
Fast, mobile loading barge handlers can access cargoes at any dock location
Simple controls ensure quick, precise duty cycles to load hoppers and conveyors
Coal Facilities
America's largest purpose-built machines keep pace with demands for power plant and steel mill production
Full range of models and sizes available with electric drive for minimal energy cost and 24/7 operation
Dredging & Remediation Marine Cranes
Long reach and choice of boom pin locations adapt to requirements for transloading sediment from barges to shore facilities
Highly transportable marine crane tailored to move and set up quickly between dredge sites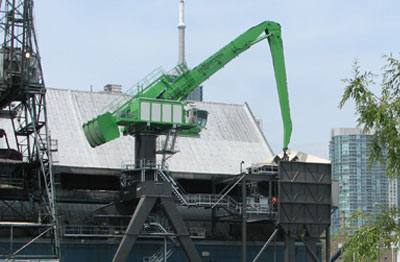 SENNEBOGEN's EQ cranes utilize innovative counterbalance designs to minimize the energy cost of operating today's largest purpose-built material handlers.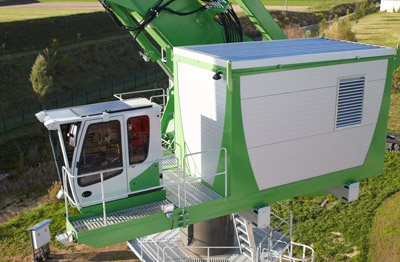 SENNEBOGEN's easy operation, compared to traditional rope cranes, allows a fast learning curve for new operators to become fully proficient in days instead of years.