Log Handling Machines For Logging & Wood Processing Industries
SENNEBOGEN loader cranes speed, stability and long reach are ideal for log-handling applications. Custom-built and equipped for your operation, our high-stacking capability instantly raises the roof of your yard to increase capacity and simplify inventory management. With a SENNEBOGEN log handling machine, the compact footprint with stable 360o lift radius allows efficient loading and faster mobility between tight rows.
The exclusive maXCab elevating operator station allows a clear view to the top of infeed decks, trailer loads and log piles for accurate, smooth loading and sorting.
See the new 830 M-T machine purpose-built log handling machine for trailer-pulling applications in wood yards and saw mills.
Log Yards
Excellent stability, even while moving, to load, sort and stack both tree length and CTL wood
Fast, powerful duty cycles to feed debarking, engineered wood and pole processing equipment
Nimble, cost effective pick & carry machines
Milling
High mobility to stack and move material for infeed for sawmills
Loader cranes provide high volume loading of chips to infeed at pulp mills
Precise feed to chipping and grinding equipment
Safely and quickly clear jams from conveyors and feed decks
Biomass
Efficient infeed of logs and bulk materials for chippers and grinders
Sort material and load conveyors for energy production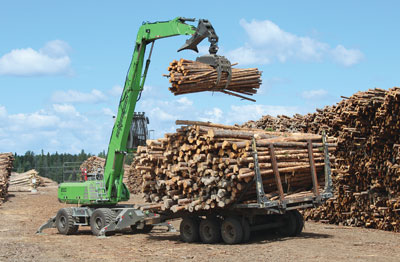 With its dual transmissions, the undercarriage of the 830 M-T log handling machine is specially designed for log yard applications requiring heavy trailer-pulling capability as well as efficient log loading.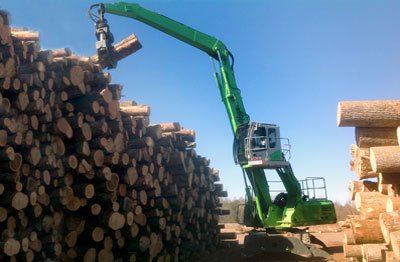 The elevating maXCab allows operators to look down into truck trailers, rail cars and log stacks, and to keep watch over busy traffic lanes.