Material Handlers For Municipal & Commercial Waste Facilities
The waste handling industry never sleeps!
Industrial, commercial and municipal solid waste (MSW) flows in an endless stream that requires dependable, efficient equipment to keep pace. SENNEBOGEN waste handlers provide proven solutions that reduce operating costs while moving more material efficiently, day in and day out.
Landfills
Simple, computer-free design assures dependable continuous service with minimal downtime.
SENNEBOGEN's high strength, long reach and fast duty cycles keep truck lines moving smoothly.
The green machines are built to survive and thrive through dust, grit and heat with their high capacity flow-through cooling design, smart hydraulic circuits and filtration systems plus an automatic reversing fan to blow out debris.
Recycling centers
Precise responsive control for efficient picking and sorting helps MRFs and other recycling processors to meet goals for diverting materials.
Quiet operation and clean emissions from Tier 4 Final engines are ideal for operating indoors.
High-speed mobility lets operators move quickly between work stations for varied loading, sorting and carrying tasks.
Transfer stations
Large windows and a dual camera system in a hydraulically elevating cab provide exceptional visibility to keep customers, crews and other equipment safe in high traffic zones.
Limit switches and guarding protect operators and facilities from damage in indoor loading operations.
A compact footprint, long reach and 360o loading capability maximize productivity in confined work areas.
Download the SENNEBOGEN White Paper here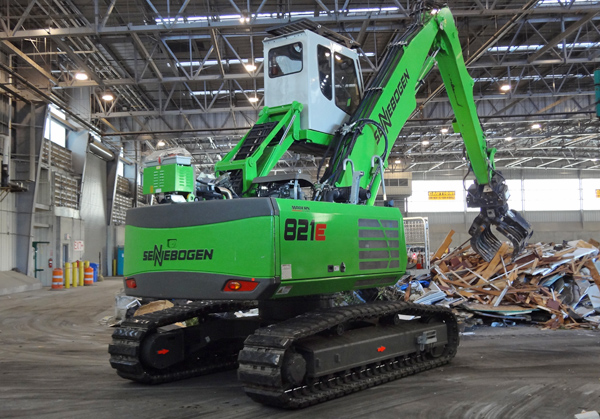 An elevated cab and highly responsive controls allow operators to sort and pick recyclable material quickly.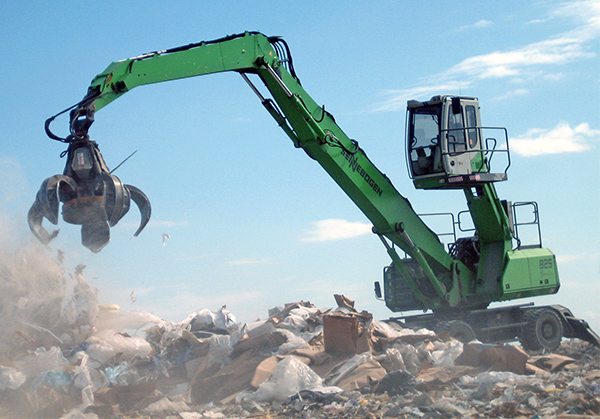 SENNEBOGEN's reversing fan and efficient cooling design keeps material moving in harsh operating environments.
Download the SENNEBOGEN White Paper:
A Material Handlers White Paper
Equipment Considerations on the Tipping Floor
Maximizing transfer station profit through smart equipment selection.