SENNEBOGEN Training Services
Integrated into our 100,000 sq. ft. (9300 m2) head office facility in Stanley, NC, the SENNEBOGEN Training Center provides hands-on factory training within driving distance for many of our American dealers and customers. Click here to download the Training flyer.
With courses for service technicians, parts supply staff, dealer sales representatives and machine operators, the center is open to the staff of all SENNEBOGEN distributors and customers at no charge.
The Training Center is a dedicated facility with fully equipped classrooms and demonstration areas. The main demonstration bay allows hands-on access to full-size machines from three levels, including an elevated gallery. Our instructors are all highly qualified specialists in material handling equipment and applications, combining practical field experience with years of instructional expertise and the most current technical information.
Courses available from SENNEBOGEN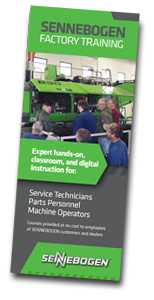 Click any course title to learn more about course content and registration
Our hands-on approach to technical training extends directly into the classroom.