Vario Tool Quick-Change System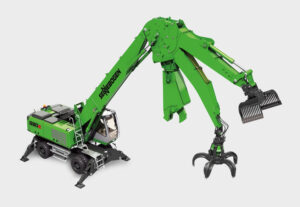 Equip your SENNEBOGEN scrap-handler to switch from scrap shears to any standard lifting attachment in just 2 minutes!
Vario Tool turns your scrap-handler into the ultimate multi-function demolition machine. The innovative coupling system connects directly to hydraulic shear attachments to break down large metals, then converts to any sorting and loading attachment on a standard SENNEBOGEN stick.
disconnect and re-connect any tool without leaving the cab
one machine to handle shears, grapple, magnets, buckets, and hooks
dust-proof coupling guard ensures long-term low-maintenance reliability
fully hydraulic operation; no storage rack required
Compact purpose-built machines transport easily on low-loader, arrive on-site ready to work; ideal for one-operator projects.
Watch! Easy tool change in under 2 minutes!