SENNEBOGEN Introduces New Grapples For Scrap Handlers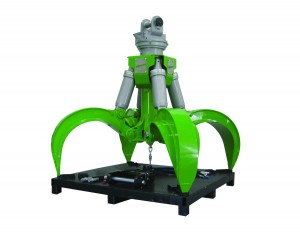 Stanley, NC – Today, Constantino Lannes, President of SENNEBOGEN LLC announced that its green line scrap handlers will now be offered with its own new green line orange peel grapples for use in recycling yards and steel mills.
SENNEBOGEN grapples are available in 4-tine and 5-tine models and in sizes from 0.5 to 5.0 cu. yd. Manufactured to match SENNEBOGEN's renowned standard of robust strength and reliability, the new grapples feature a high performance design for extreme duty cycles under the most difficult applications. Cylinders are provided with heavy-duty protection while hoses are fitted with optimized routings and steel guards.
According to John Van Ruitenbeek, Vice President Sales and Marketing at SENNEBOGEN LLC, "These grapples are a logical step for us to simplify the purchasing process for customers who already appreciate the value of SENNEBOGEN quality and service."
SENNEBOGEN grapples are available exclusively through authorized SENNEBOGEN distributors throughout United States, Canada and South and Central America.
About SENNEBOGEN
SENNEBOGEN has been a leading name in the global material handling industry for over 65 years. Based in Stanley, North Carolina, within the greater Charlotte region, SENNEBOGEN LLC offers a complete range of purpose-built machines to suit virtually any material handling application. Established in America in the year 2000, SENNEBOGEN LLC has quickly become a leading provider of specialized equipment solutions for recycling and scrap metal yards, demolition, barge and port operations, log-handling, transfer stations, waste facilities and the tree care industry from coast to coast. A growing network of distributors supports SENNEBOGEN LLC sales and service across the Americas, ensuring the highest standard of professional machine support and parts availability.
For more information on the full line of SENNEBOGEN green line material handlers, contact:
SENNEBOGEN LLC
1957 Sennebogen Trail
Stanley, NC 28164
Tel: (704) 347-4910 or fax (704) 347-8894
E-mail: sales@sennebogenllc.com