Proven Performer Makes Its Official Introduction At Bauma
Charlotte, NC – When the use of chainsaws in the hands of a skilled arborist can't do the job of maintaining roadways and powerline right-of-ways, today, urban foresters are now turning to tree care handlers from SENNEBOGEN. The 728 M is the latest member of the growing family of tree care handlers that can safely and efficiently grab, cut and carefully place trees and shrubs and will be on display at Bauma later this year. Although recently launched a few months ago, the 728 M, a 76,000 lbs. (34,000 kg) machine has already proven itself to arborists.
The 728 M (rubber tired) and 728 R-HD (tracked) is the perfect addition to the SENNEBOGEN tree care handler line-up. It fills in between the 718 and the 738 which has already become very popular in the US.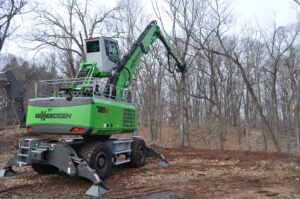 With a reach up to 65 feet (19.8 m) which is only 10 feet (3 m) less than the 738 but 22 feet (6.7 m) more than the 718, it covers a lot of ground. This translates into a machine that can still reach trees that are quite far away which is especially crucial in challenging environments like clearing slopes while being able to stay safely on the ground. 
With a lifting capacity of 3,700 lbs. (1,680 kg) at its maximum reach, it has the power and the capability to cut and stack large limbs and whole trees in a single, efficient step while essentially eliminating any risk to ground crews. 
Designed to deliver
Driven by a perfectly matched Cummins 173 HP (129 kW) Tier 4F engine, the hydraulic system has all the power required to run a wide selection of heavy-duty attachments including grapple saws and mowers. Like the smaller 718, the machine is easy to transport on public roadways without special permits and once on the ground, the 728 M is street legal and can move into position and between jobs at 12 mph (20 kph).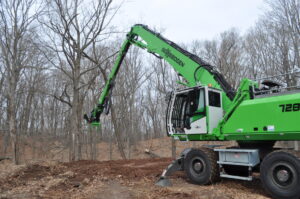 Arborists have clearly proven that a SENNEBOGEN Tree Care Handler is a safe and effective alternative for proper tree maintenance. The elevating, safety enclosed, climate controlled Maxcab, with its protective guarding on the roof and windshield and bullet-proof glass combined with its ability to tilt 30°, gives the operator a wide angled view of the worksite. With its reach, it can be safely used to avoid high-risk manual work-at-height situations. 
As noted by Constantino Lannes, President of SENNEBOGEN LLC, "Tree and roadway maintenance is never about speed. It has always been about safety first. At Bauma, people will be able to see firsthand that we have combined the best of the 718 and the 738 making the 728 M and the 728 R-HD the ultimate gamechangers.
About SENNEBOGEN
SENNEBOGEN has been a leading name in the global material handling industry for over 65 years. Based in Stanley, North Carolina, within the greater Charlotte region, SENNEBOGEN LLC offers a complete range of purpose-built machines to suit virtually any material handling application. Established in America in the year 2000, SENNEBOGEN LLC has quickly become a leading provider of specialized equipment solutions for recycling and scrap metal yards, demolition, barge and port operations, log-handling, transfer stations, waste facilities and the tree care industry from coast to coast. A growing network of distributors supports SENNEBOGEN LLC sales and service across the Americas, ensuring the highest standard of professional machine support and parts availability.
For more information on the full line of SENNEBOGEN green line material handlers, contact:
SENNEBOGEN LLC
1957 Sennebogen Trail
Stanley, NC 28164
Tel: (704) 347-4910 or fax (704) 347-8894
E-mail: sales@sennebogenllc.com