SENNEBOGEN Attachment Lineup Includes New 5-Tine Grapples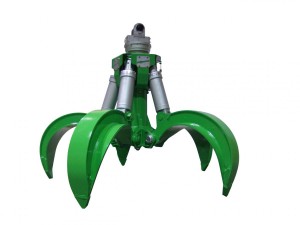 Stanley, NC – The green line 5 tine hydraulic grapples recently introduced for SENNEBOGEN scrap handlers include models ranging from .50 to 5 cu.yd.
The green line series was created by SENNEBOGEN to meet most needs of its scrap handling customers. Constantino Lannes, President of SENNEBOGEN LLC, says the new grapples simplify purchasing of SENNEBOGEN scrap handling equipment. "Operators can now deal with a trusted standard of reliability and support for the complete productivity solution."
The models with optional rotators provide high lift and torque capacity. Furthermore, the rotators are designed to accept high radial loads and axial loads, ideal for the pushing and pulling stresses in recycling applications. Each model operates within a wide pressure range, to a maximum of 5500 psi, to cover the widest possible range of equipment operating pressures.
Protective features such as steel hose guards and cylinder guards enhance reliability by minimizing potential damage to critical components from impacts or debris. Direct hose routings further reduce the grapple's exposure to damage.
All wear surfaces of the tines are 33% more wear resistant than T1 steel and tips are fabricated using a material providing 44% better abrasion resistance than typical AR-500 steel. The times are specifically designed to shed material cleanly and prevent material accumulation.
SENNEBOGEN grapples are available exclusively through authorized SENNEBOGEN distributors throughout United States, Canada and South and Central America.
About SENNEBOGEN
SENNEBOGEN has been a leading name in the global material handling industry for over 65 years. Based in Stanley, North Carolina, within the greater Charlotte region, SENNEBOGEN LLC offers a complete range of purpose-built machines to suit virtually any material handling application. Established in America in the year 2000, SENNEBOGEN LLC has quickly become a leading provider of specialized equipment solutions for recycling and scrap metal yards, demolition, barge and port operations, log-handling, transfer stations, waste facilities and the tree care industry from coast to coast. A growing network of distributors supports SENNEBOGEN LLC sales and service across the Americas, ensuring the highest standard of professional machine support and parts availability.
For more information on the full line of SENNEBOGEN green line material handlers, contact:
SENNEBOGEN LLC
1957 Sennebogen Trail
Stanley, NC 28164
Tel: (704) 347-4910 or fax (704) 347-8894
E-mail: sales@sennebogenllc.com