Material Handlers:
Purpose-Built From The Ground Up
Hydraulics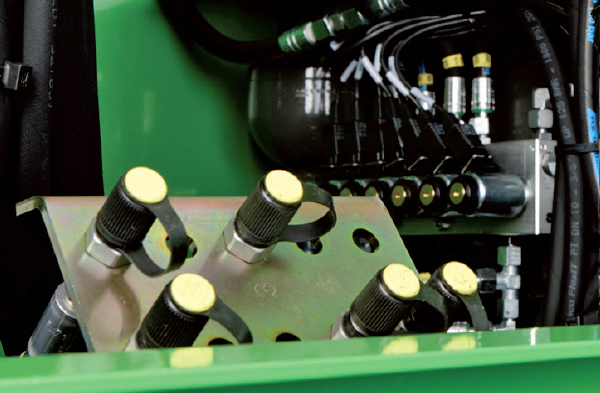 Purpose-built design
Fully hydraulic controls require no special software to troubleshoot and all test ports are easily accessible in one place from ground level.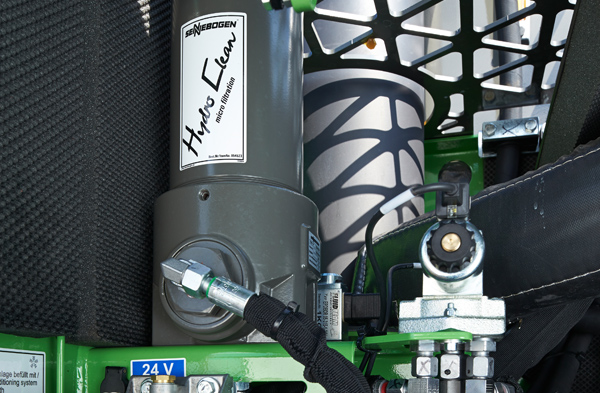 Hydraulic filtration
The "HydroClean" 3-micron filtration system cleans hydraulic oil with 99.95% efficiency to protect hydraulic components from contamination by water or particulates, and extends oil change intervals.
Undercarriage
Telescoping Undercarriage
Hydraulically telescoping undercarriage opens out for added stability; closes in for compact transport.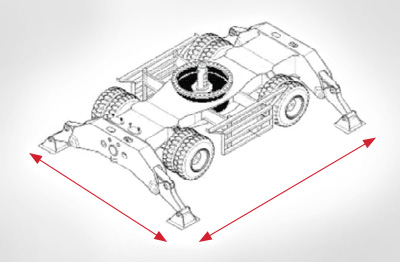 Square footprint
A uniform stance and a central swing point allow equal load limits for lifting from all sides through 360o.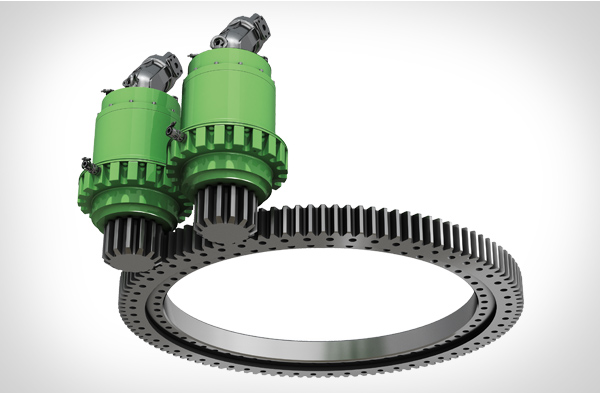 Swing system
Dual drives provide excellent cycle times and swing torque for large loads.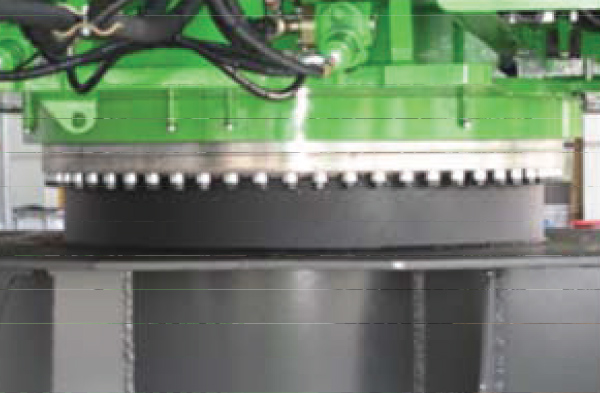 Swing ring
A continuous flange ring integrated into the lower carriage structure reduces stress on the slew bearing.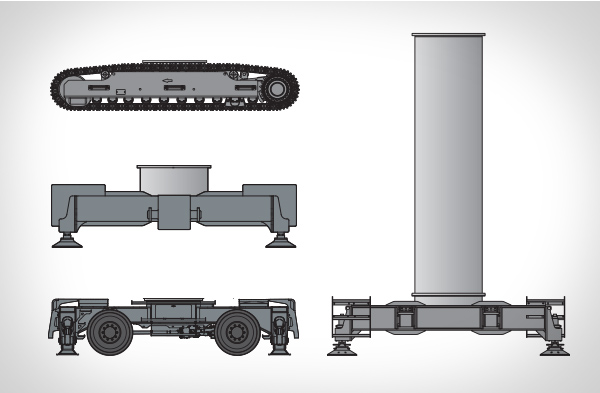 Multiple platforms
Standardized machine design adapts to standard wheeled, tracked and pedestal mounts without change.
maXcab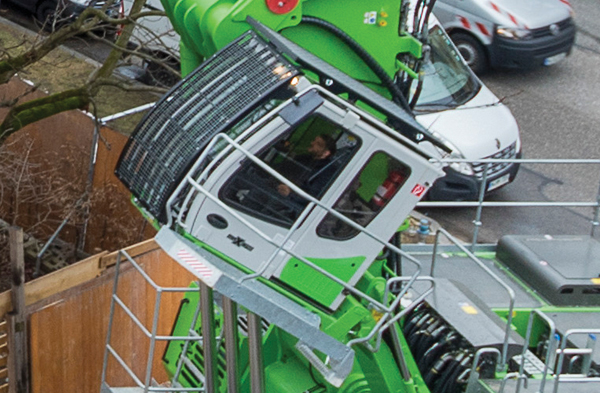 Tilting Cab
Elevating Maxcab with added debris guarding and 30° tilt for working at heights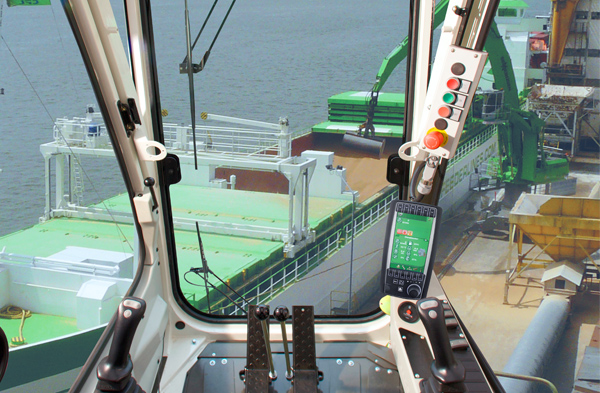 Clear lines of sight
Open front window and large side windows supplemented by 2-camera system as standard.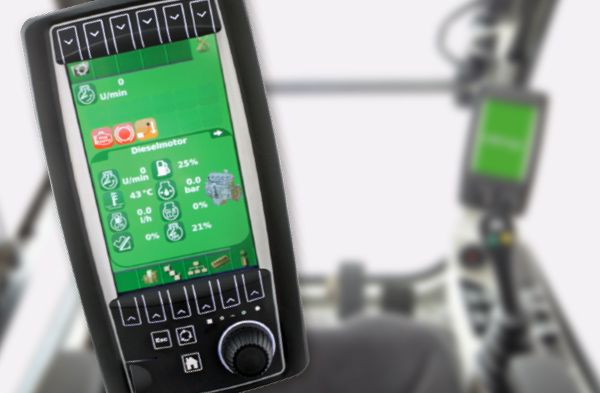 SENCON
Advanced diagnostic system with user-friendly multi-colored interface available in multiple languages.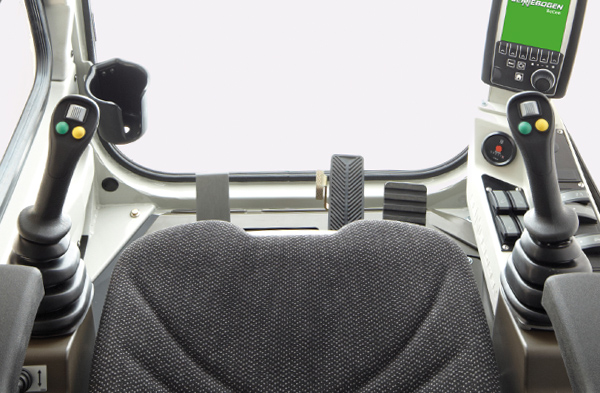 Joystick steering
Unobstructed view for operator with highly responsive controls.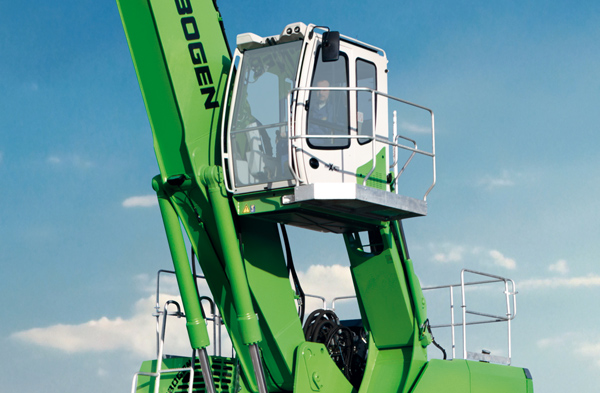 High-rise visibility
Elevating maXcab maximizes safety, loading accuracy end stability with hydraulic elevation up to 21 ft (6.4 m).
Safety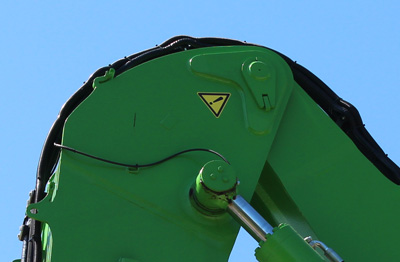 Limit switches
Limit switches on the boom and stick cylinders cushion rod movement and prevent attachments from colliding with the cab.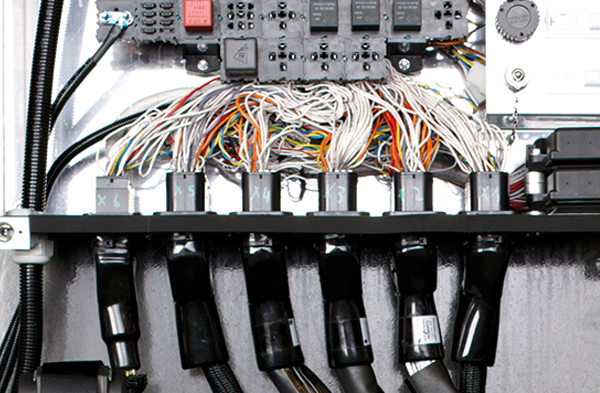 Fuses and Relays
All fuses and relays are easily accessible from ground level in a centrally located box with distinct labeling.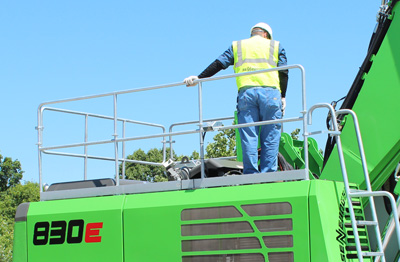 Safety rails
Full guarding on upper decks provide safety for technicians.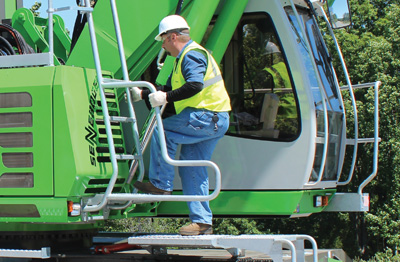 OSHA-compliant
Continuous 3-point contact access to upper deck with handrails and guarding from ground to cab.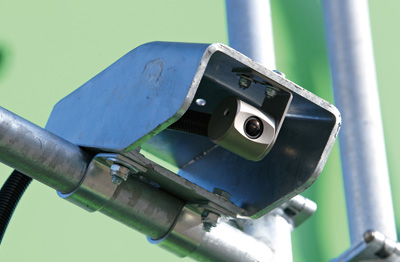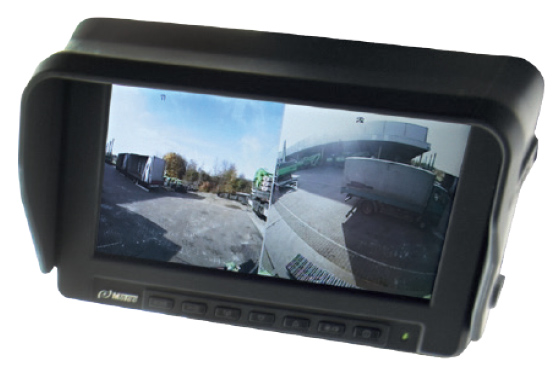 Dual cameras
Only SENNEBOGEN provides a right-view and rear-view camera as standard to provide 360o visibility with a view past the boom.
Tools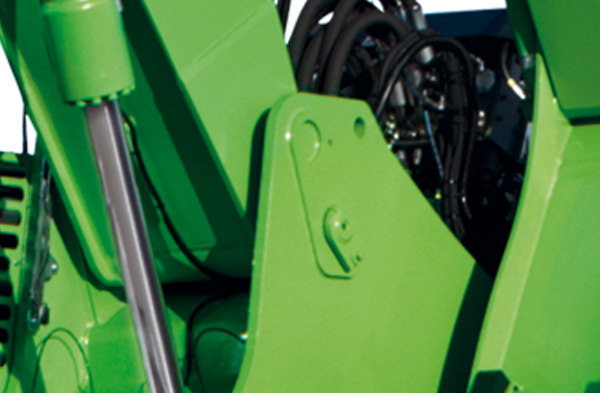 Boom pivot
Selectable pivot points located forward on the chassis for enhanced balance and lifting capacity.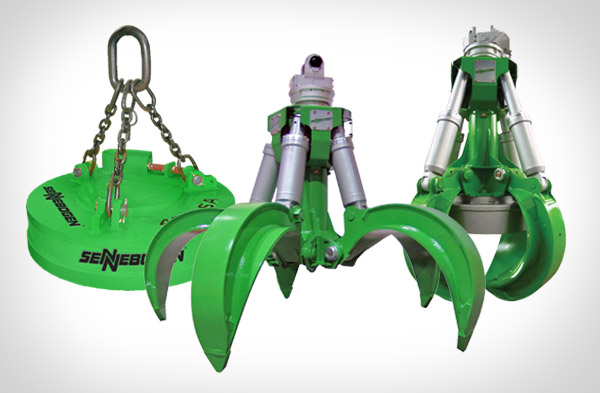 Attachments
SENNEBOGEN grapples and hydraulically-driven magnet systems are matched to provide operators with the most efficient tools for their application.
Booms & sticks
SENNEBOGEN fabricates its own booms and sticks to eliminate welding stresses inside the box structure.
Chassis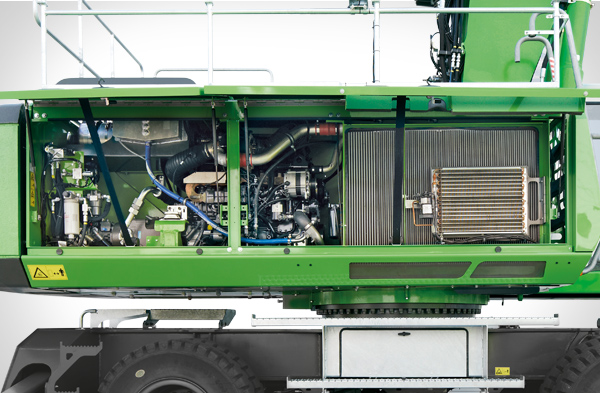 Longitudinal engine mount
Center-frame design allows improved balance, strength, service access and cooling efficiency.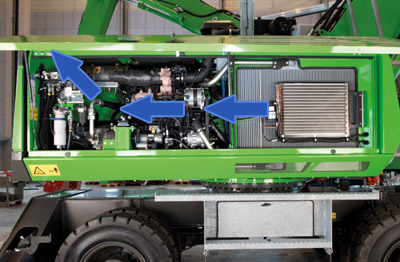 Cooling system
Intelligent cooling technology with fast, large dimensioned reversing fans extend machine life in tough environments.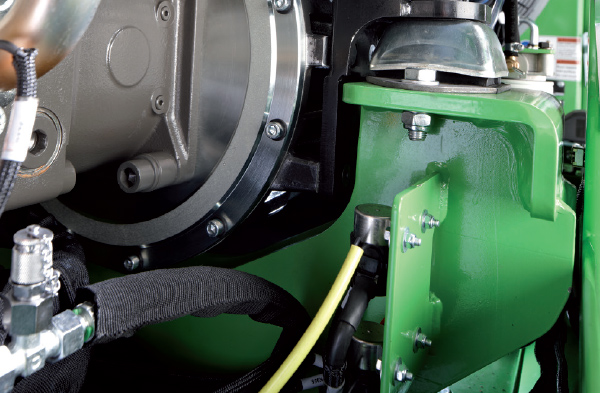 Anti-vibration mounts
Isolating engine vibration leads to less wear on components as well as lower sound levels.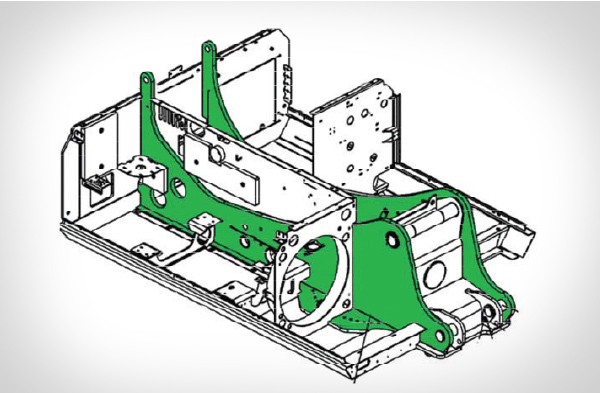 One-piece center frame
A large, continuous center frame optimizes distribution of stresses and machine balance from boom pivot to counterweight.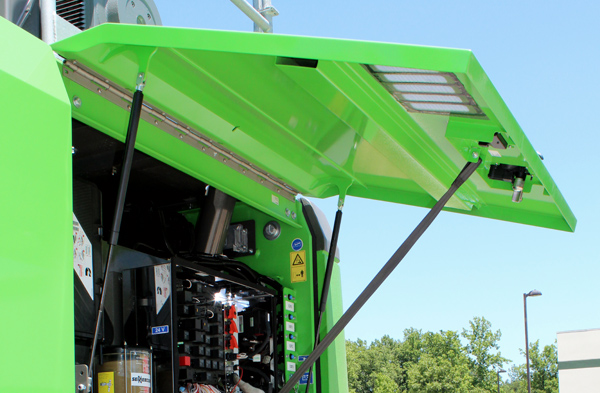 Heavy-duty doors
Solid steel compartment doors avoid costs to replace or repair the damages that often occur with lighter materials.
Special machines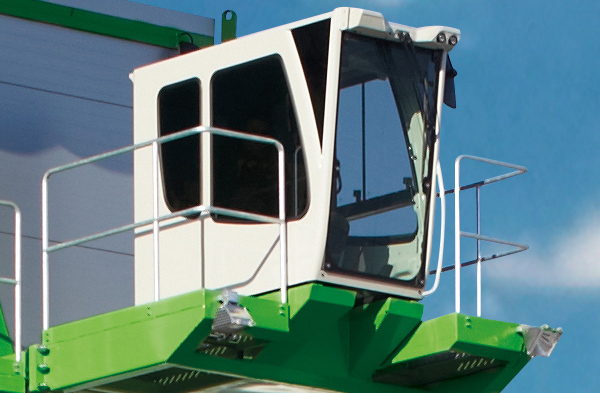 Harbor Cab
Developed for operation on seaports and waterways, the spacious maXcab affords excellent visibility above, below, forward and to the sides.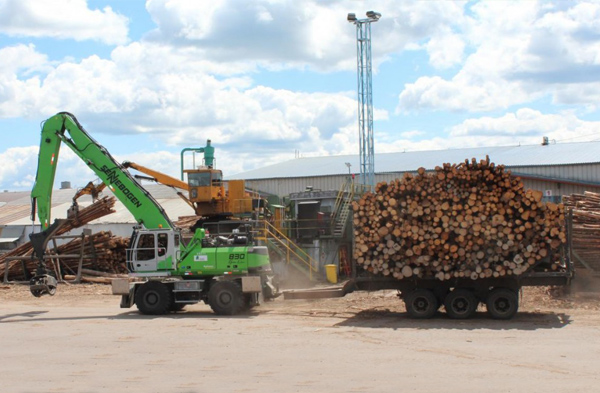 Puller undercarriage
The 830 M-T trailer puller is mounted on an undercarriage specially engineered to withstand heavy pulling stresses, with separate transmissions on each axle for added pulling power and traction.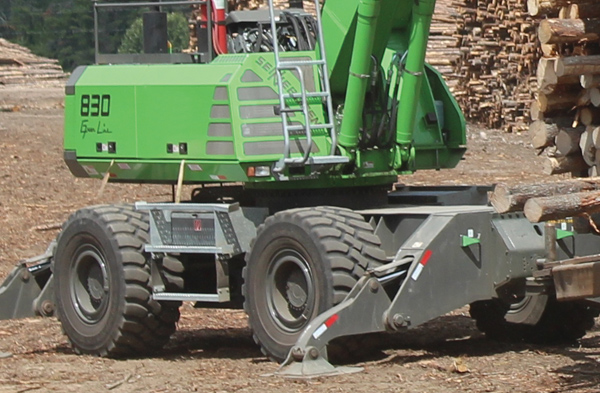 Soft-soils undercarriage
The 830 M-HDS is designed for rough terrain with a reinforced heavy-duty undercarriage and large-dimensioned single tires for extra flotation.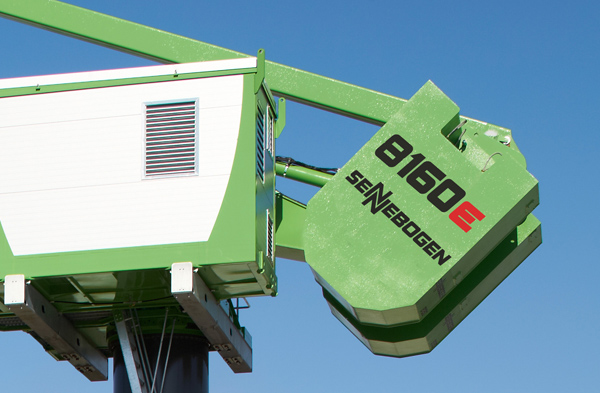 Counterbalance
The EQ counterbalance reduces energy costs using a simple lever mechanism to automatically adjust load balance with its movement on the boom.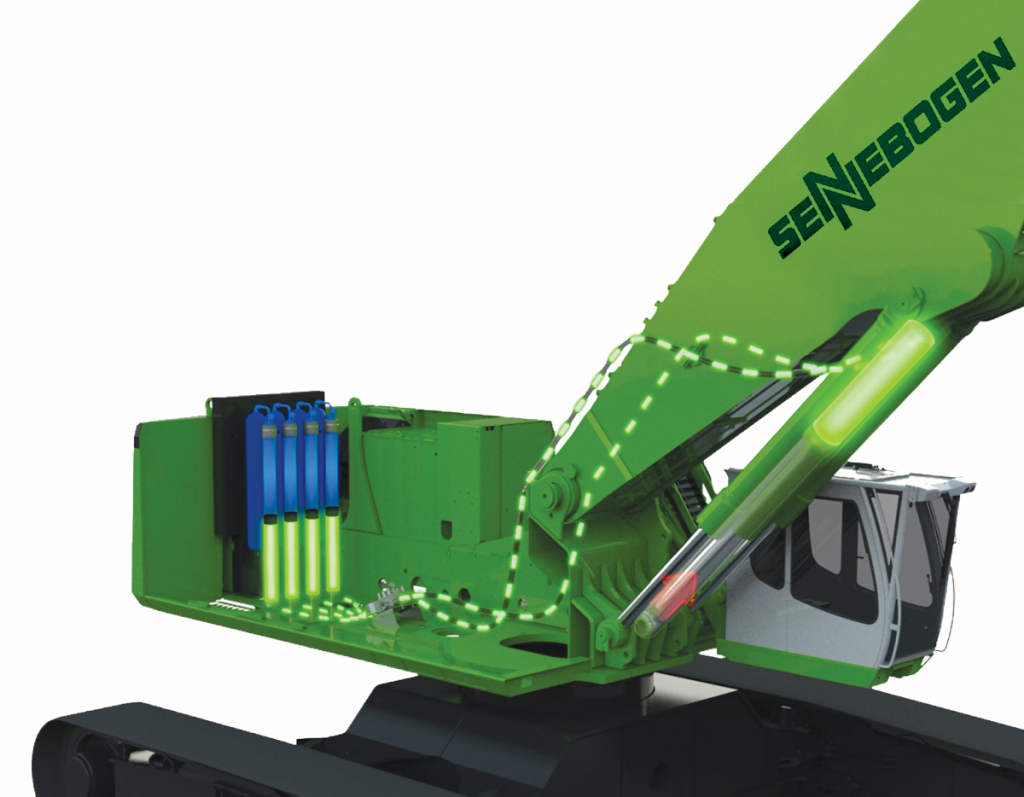 Green Hybrid
New generation of SENNEBOGEN Material Handlers features the Green Hybrid system which recovers up to 30% of the lifting energy generated by the boom to reduce fuel costs and emissions. See the Green Hybrid system at work. Click here.