Two SENNEBOGEN Log Handlers Double Down On Green Performance
Hirschberg, Germany – The one thing better than a 730 M-HD log handler is two 730 M-HD log handlers!
That's the decision of the Rettenmeier Holzfabrik GmbH sawmill facility in Hirschberg, Germany. The Hirschberg mill is one of Rettenmeier's six timber processing plants, where the plant specializes in producing a wide range of softwood construction products, from dimension lumber to laminates.
Every Rettenmeier plant shares a common commitment to sustainable processes for sustainable wood products. Hirschberg's choice of SENNEBOGEN log handlers is a direct reflection of that commitment.
According to Sandro Egelkraut, Fleet Manager at Hirschberg, the mill saw how the 730 M-HD met all its criteria for both productivity and "green" performance in the log yard – and quickly decided to add a second machine. "These machines are extremely durable and therefore very economical. This is why, in discussion with our SENNEBOGEN representative, we decided to purchase a second 730 M-HD for the sorting line." 
The two SENNEBOGEN E Series machines fit in perfectly with Rettenmeier's corporate philosophy: "… sustainability and a positive ecological balance thanks to the lowest possible energy consumption and the use of resources in wood processing."
SENNEBOGEN's purpose-built pick & carry machines achieve low fuel consumption, low emissions and long service life. The two timber handling machines work together in three shifts, handling 1,000 cubic meters per shift on the sorting line.
The 730's 360o swing range minimizes the need for maneuvering between rows of stacked logs, allow faster loading cycles which translate into further eco-efficiencies through a day's production. Their high-stacking capability, lifting up to 32 ft. (9.7 m) combines with their narrow profile, just 12 ft. (3.6 m) wide, to allow more wood to be stockpiled in less space – another significant saving in cycle times and operating costs.
Egelkraut also attaches great importance to safety at work and again gives a high grade to his 730s. "Since the paths between the stacks are very narrow, the machines need to be especially stable and maneuverable. Those features let our 730s pick and transport loads very safely. And thanks to the sliding door on the side of the cab, entering the cab is also easy and safe for our operators."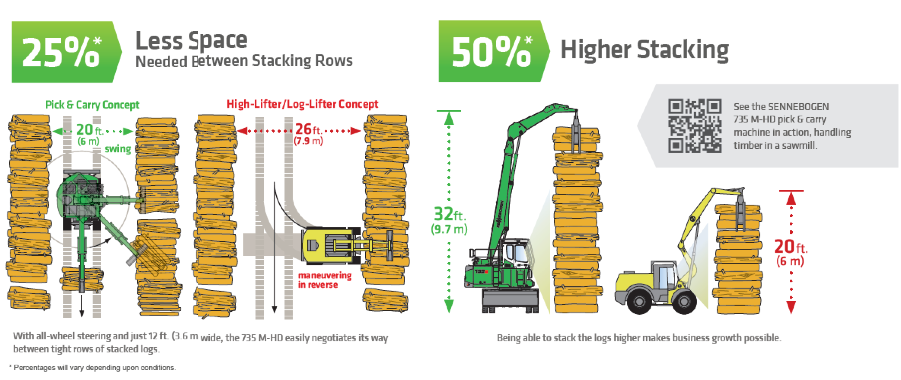 About SENNEBOGEN
SENNEBOGEN has been a leading name in the global material handling industry for over 65 years. Based in Stanley, North Carolina, within the greater Charlotte region, SENNEBOGEN LLC offers a complete range of purpose-built machines to suit virtually any material handling application. Established in America in the year 2000, SENNEBOGEN LLC has quickly become a leading provider of specialized equipment solutions for recycling and scrap metal yards, demolition, barge and port operations, log-handling, transfer stations, waste facilities and the tree care industry from coast to coast. A growing network of distributors supports SENNEBOGEN LLC sales and service across the Americas, ensuring the highest standard of professional machine support and parts availability.
For more information on the full line of SENNEBOGEN green line material handlers, contact:
SENNEBOGEN LLC
1957 Sennebogen Trail
Stanley, NC 28164
Tel: (704) 347-4910 or fax (704) 347-8894
E-mail: sales@sennebogenllc.com