SENNEBOGEN 718 Earns Praise From Boston-Area Tree Service Company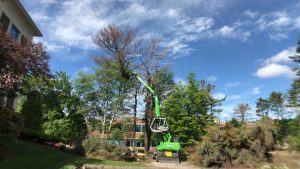 ESSEX, MA – When it comes to tree service equipment, "I feel like I have seen everything there is," says Dan Mayer. "It is hard to impress me."
As a self-described YouTube enthusiast, he is constantly on the look out for machinery anywhere in the world that can benefit his busy Mayer Tree Service operation in the Boston area. When a trip to a jobsite in Switzerland brought him face-to-face with a mobile SENNEBOGEN 718 material handler equipped with a saw head, he knew that this is what he had been looking for.
"I saw what the machine did over there for a tree company of similar size to our company here in the U.S.," says Mayer, "and that's what made me pull the trigger. We actually brought the first one into North America."
And now? Working in tandem with the self-powered Albach Diamant 2000 mobile chipper, the SENNEBOGEN 718 "blows me away every day," says Mayer. "The combination is just deadly. It wouldn't be the same without the SENNEBOGEN. "This has been a game changer with just  how many trees the SENNEBOGEN takes down, precuts  and stacks safely and efficiently. With everything laid out just so, the Albach can come in behind and process them in a fraction of the time."
He estimates the two pieces together outpace his local competition by a 10:1 clip, "but it's probably actually greater than that, because there is no operator fatigue. With this purpose-built equipment, you're just not beating up on your people."
Always seeking a better way
Taking a bold step in a normally modest and traditional industry is nothing new for Mayer, who started his Boston North tree pruning and tree removal business in 1995.
With the constant search to stay ahead, "to reinvent myself again," Mayer says he could not have asked for a better fit when the versatile SENNEBOGEN 718 rolled into his view during his trip to Switzerland.
Equally impressive were the subsequent meetings with various company representatives, from Chairman and Managing Director Erich Sennebogen in Germany to SENNEBOGEN LLC President Constantino Lannes and other members of the company's North American team. "These people are very flexible," says Mayer, "and are completely interested in feedback and knowing what would work best for us here in Massachusetts and southern New Hampshire."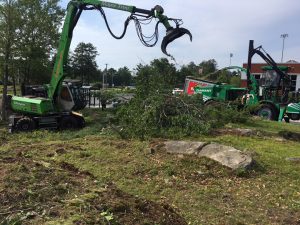 SENNEBOGEN 718 proves the right fit
As a purpose-built material handler, the wheeled SENNEBOGEN 718 is more efficient and nimble than other carriers, be they modified excavators, cranes, or the forestry machines used on larger tree removal projects, says Mayer. The 718 is ideal for "urbanized applications" such as residential, roadside, parks and golf courses, the core of the Mayer Tree Service business.
The low ground pressure makes this 47,180 lb (21,400 kg) material handler particularly efficient on sensitive lands, such as golf courses. In one of Mayer's first revelations with the machine, the 718 equipped with a 43' (13 m) reach including telescoping stick brought down and carried out trees between a roadway and a riverbank while cycling three swamp mats to create the necessary path. "I was blown away by how our operator was able to use just three mats, hopscotch them, cut the trees, and then come back to the road with everything." Once at the roadside, the trees were then chipped by the mobile Albach wood chipper, which had in the meantime been driven in from another job.
"Erich Sennebogen said it perfectly – The excavator is the ideal machine for digging a hole. There's no better design out there for digging into the ground and below. But when you are talking about picking things off the ground and putting them up high, or picking them up high and putting them down on the ground, then it's the SENNEBOGEN," says Mayer.
Without the excess size, weight and engine power, the SENNEBOGEN 718 is able to have its energy placed entirely on the task at hand. "All we're doing is trees," says Mayer, "and that's where we want the energy to be. Once the tree gets on the ground, once we take the vertical and make it horizontal, then the Albach can take it from there."
A welcome addition to a busy operation
While always looking for the next great equipment solution, Mayer Tree Service was built "by doing our work safely and efficiently."
Equipped with a Hultdins hydraulic tree saw, the SENNEBOGEN 718 has proven a good addition on both fronts. "If we didn't have it, we would be so overbooked," says Mayer, who employs 60-70 people. "It really helps keep our backlog under control. We would have to pass on some of these jobs, because we just wouldn't be able to get them done in time."
"This 718 has enabled me to grow without having to add any extra people, which is really huge for us, because in this industry, good people are hard to find," he says. "We have more equipment than people, which I think is a good model." The company's waste wood management and biomass division, ProBark, turns the trees into bark mulch and fuel chips. The group's fleet also includes an assortment of large equipment, including horizontal grinders and wheel loaders.
With its elevated maXcab, the SENNEBOGEN 718 offers visibility and operational advantages for the Mayer Tree Service operators, who are now able to look more directly into the trees when cutting, rather than straight up.
"And it is so quiet. The only sound you really hear is when the hydraulic saw comes out of the tree," says Mayer, who gives a big thumbs-up to the combination of reach, versatility, mobility and fuel efficiency.
"Three or four days into a project and it will still be on its first tank of fuel," he says. "Some of our other machines need a fuel truck strapped to them. You need to fill them every day."
In Mayer's view, "the engineering is where it's at. The SENNEBOGEN doesn't do everything," he says "but when it is doing its thing, you can't touch it. It is off the charts." Describing the machine as a "complete disruptor" in his sector, he is naturally glad he was able to have it first.
"We've been doing this for a long time without this particular equipment," says Mayer. "It's like when you have been copying everything by hand and then somebody shows up one day with a photocopier. It's that big of a difference."
About SENNEBOGEN
SENNEBOGEN has been a leading name in the global material handling industry for over 65 years. Based in Stanley, North Carolina, within the greater Charlotte region, SENNEBOGEN LLC offers a complete range of purpose-built machines to suit virtually any material handling application. Established in America in the year 2000, SENNEBOGEN LLC has quickly become a leading provider of specialized equipment solutions for recycling and scrap metal yards, demolition, barge and port operations, log-handling, transfer stations, waste facilities and the tree care industry from coast to coast. A growing network of distributors supports SENNEBOGEN LLC sales and service across the Americas, ensuring the highest standard of professional machine support and parts availability.
For more information on the full line of SENNEBOGEN green line material handlers, contact:
SENNEBOGEN LLC
1957 Sennebogen Trail
Stanley, NC 28164
Tel: (704) 347-4910 or fax (704) 347-8894
E-mail: sales@sennebogenllc.com