Factory Training Builds Coast-To-Coast Support Network For SENNEBOGEN Customers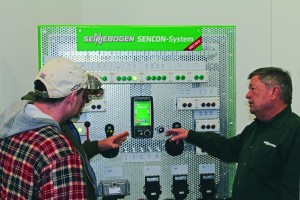 Stanley, NC – When SENNEBOGEN LLC opened its new headquarters in Stanley, NC, in 2009, the facility was equipped with one of America's premier OEM Training Centers for heavy equipment.
Since then, over 1,000 technicians have attended the hands-on courses in material handler maintenance and troubleshooting. The Training Center has also provided specialized instruction to dealer sales representatives, and now offers courses for machine operators and parts specialists. As a result, SENNEBOGEN customers everywhere are supported by one of the industry's most knowledgeable and accessible service support networks.
The Training Center was an integral part of the original design for the new head office and warehouse, which recently expanded to 100,000 sq. ft. under one roof. The actual Center is a wholly self-contained facility at the rear of the building, complete with a separate entrance and its own kitchen. This design was chosen specifically to "firewall" attendees from office and warehouse operations, and minimize their distraction from training activities. Meeting rooms and classrooms are all equipped with the computer networking and projection technology required for today's interactive instruction methods. The Center is built on two levels, including an upper viewing gallery that overlooks a large machine bay. This 3-tiered bay allows SENNEBOGEN trainers to bring almost any SENNEBOGEN machine indoors, including the 200,000 lb. 870 model.
New courses, free for the taking!
The Operator Machine Familiarization and Parts Training Programs are the latest additions to the SENNEBOGEN curriculum. Like the original technician and sales programs, the Operator Familiarization and Parts courses are open to all SENNEBOGEN dealer staff and customers without charge. Attendees are responsible only for their own transportation and evening meals. Course schedules are updated and distributed to dealers and regional sales managers throughout the year.
The Operator Machine Familiarization Program provides a full 2-day course on the controls and best practices for working with SENNEBOGEN machines. Along with orientation to features within the operator station, attendees are instructed in morning walkaround inspections, safety guidelines and proper loading procedures to prevent damage to magnets and grapples.
Parts training focuses on identifying and ordering parts more efficiently using SENNEBOGEN manuals and schematics. According to SENNEBOGEN's long-time Service Manager, Jim Westlake, many attendees still search their parts books like old-school paper catalogues. This course shows them how to use digital search methods and electronic drawings to save time and improve accuracy.
As Westlake points out, taking the time to attend these courses is a great investment. "You don't have to commit to a long series of courses to support the SENNEBOGEN product line," he explains. "The high level of commonality of systems across our whole model range adds a lot of value to the training you get here. When you learn one machine, you learn them all!"
What's new…
Four years after the Center's opening, Westlake reports that the facilities and courses have required little change. He credits the attention given to the program in the early stages for its ongoing success. "When we started up, Constantino (Lannes, President of SENNEBOGEN LLC) would come into classes in session and talk to the guys to see what's working well, what's not," he says. "We were continually upgrading our methods and content then. We still do follow-ups with attendees to make sure that we are still on track."
Course content is updated regularly to keep current with product changes. The Center recently added working component models to simulate specific troubleshooting situations in the classroom, so technicians can experience faults and solutions at the component level before they work on a real machine. The Service Training courses have been expanded from 4 days to 5 days, allowing more time for hands-on practice. As well, the Service Training courses now have Spanish-language programs.
Making a difference
Jim Westlake believes that the most valuable feature of the Training Center is the distance it puts between trainees and their everyday workplace.
"We have seen a definite difference," Westlake claims. "We have been training technicians at our dealer branches for years. Since we started bringing them into our facility, the type of calls we get from the shops have changed – we don't get questions about issues that have already been covered in class. It works for us, and it works for our customers."
The Center's Chief Trainer, Roger Hardin, concurs with Westlake's appraisal. "When technicians come here, there are no distractions. They are not being pulled away from class to answer other questions and needs in the shop. This is no holiday camp, either. We always maintain a level of professionalism throughout the time they are with us."
Hardin says he is enjoying the program because it gives him the chance to, "Give them the kind of training I wanted." Hardin has had 41 years of practical experience as a service mechanic and equipment technician, and has been a Trainer for 15 of those years. Westlake also spent years as a Crane Service Mechanic, then as a Shop Foreman before coming to SENNEBOGEN LLC as the company's first Customer Service Representative in America. As Hardin says, "It takes a mechanic to teach a mechanic," and both men place a high value on hands-on instruction.
About SENNEBOGEN
SENNEBOGEN has been a leading name in the global material handling industry for over 65 years. Based in Stanley, North Carolina, within the greater Charlotte region, SENNEBOGEN LLC offers a complete range of purpose-built machines to suit virtually any material handling application. Established in America in the year 2000, SENNEBOGEN LLC has quickly become a leading provider of specialized equipment solutions for recycling and scrap metal yards, demolition, barge and port operations, log-handling, transfer stations, waste facilities and the tree care industry from coast to coast. A growing network of distributors supports SENNEBOGEN LLC sales and service across the Americas, ensuring the highest standard of professional machine support and parts availability.
For more information on the full line of SENNEBOGEN green line material handlers, contact:
SENNEBOGEN LLC
1957 Sennebogen Trail
Stanley, NC 28164
Tel: (704) 347-4910 or fax (704) 347-8894
E-mail: sales@sennebogenllc.com