With 9 SENNEBOGENs In The Line-Up, Team Lohmann Can Handle It All
Germany – With a workforce of around 200 employees, Lohmann, a family-owned recycling company, is dedicated to the holistic processing of recyclable materials. Their expertise in the industry is vast. They process various types of waste from properly disposing hazardous materials, packaging waste or bulky waste from households, as well as handling scrap metal recycling. With its disposal center located in Emsdetten, Germany, they use their own container service and a fleet of 80 trucks to ensure an ongoing flow of materials from customers to the recycling center. With state-of-the-art material handling technology from SENNEBOGEN, including three new 825 M E-Series material handlers, Lohmann processes tons of material every day with confidence, now with nine in their fleet.
Around the world in these uncertain times, more people are working from home than ever before. Take-out meals and restaurant delivery are at an all-time high and online orders from Amazon and other retailers have skyrocketed. The ease of ordering directly to your home does come with the by-product of generating significantly more waste. Disposable hygiene products, such as medical masks and gloves have also contributed to greater waste volumes over the last 12 months. In fact, due to the many pandemic-related changes, the amount of plastic waste from private households in Germany exceeded the average by around 10%, according to a major German recycling company.
It's a little-known fact but it actually takes considerable effort and time to actually process and sort recyclable materials. In Germany alone, there are roughly 11,000 waste management companies with over 310,000 employees that ensure materials are not only picked up, but processed safely, ethically and responsibly.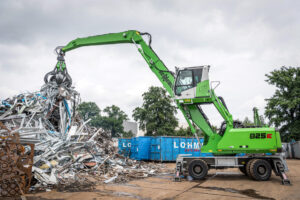 At Lohmann, operators work comfortably and safely
One of these 11,000 waste management companies is Lohmann Entsorgung located in the state of North Rhine-Westphalia. As a key and vital operator in the region, they have a number of responsibilities that ranges from the recycling of electronics to the disposal of hazardous materials, like acids and chemicals.
They also operate a recycling center for residential customers on their premises: "During the pandemic, we also observed that many citizens increasingly used their extra time for renovation work or cleared out their basements due to reduced working hours. The increase in waste from private households was quite impressive last year," reports Johannes Lohmann Jr., son of the Managing Director and now the 4th generation to join the family business.Given that Lohmann constantly has to process large quantities of waste from private households and the surrounding industry, the operators in the SENNEBOGEN material handlers spend long shifts in their machines. For this reason, great importance is placed on operator safety and cab comfort including precision joysticks, air-conditioning, bulletproof windows and comfortable seating. Lohmann Jr. continued, "Our operators tell us that their SENNEBOGEN material handlers perform extremely well, with their stability, viewing height and reach, especially when unloading containers. They feel safe."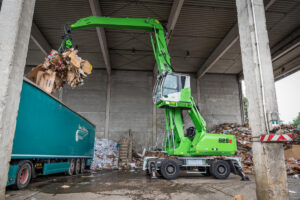 Lohmann relies on low-emission material handlers with a green-friendly approach
The SENNEBOGEN machines are in constant use by the company, which explains Lohmann's clear focus on their reliability. Moreover, they emphasize within their corporate philosophy, their role as a recycling company and their responsibility towards the environment and society: "For us, waste disposal is active environmental protection," the policy states. This is why the company decided exclusively in favor of the reliable, fuel-saving and low-emission material handlers from SENNEBOGEN.
Watch the 825 M E-Series process materials by visiting SENNEBOGEN's YouTube channel
About SENNEBOGEN
SENNEBOGEN has been a leading name in the global material handling industry for over 65 years. Based in Stanley, North Carolina, within the greater Charlotte region, SENNEBOGEN LLC offers a complete range of purpose-built machines to suit virtually any material handling application. Established in America in the year 2000, SENNEBOGEN LLC has quickly become a leading provider of specialized equipment solutions for recycling and scrap metal yards, demolition, barge and port operations, log-handling, transfer stations, waste facilities and the tree care industry from coast to coast. A growing network of distributors supports SENNEBOGEN LLC sales and service across the Americas, ensuring the highest standard of professional machine support and parts availability.
For more information on the full line of SENNEBOGEN green line material handlers, contact:
SENNEBOGEN LLC
1957 Sennebogen Trail
Stanley, NC 28164
Tel: (704) 347-4910 or fax (704) 347-8894
E-mail: sales@sennebogenllc.com