SENNEBOGEN Machine '100 Times Better' For Busy Ohio River Barge Service
Mt. Vernon, IN – The welcomed addition of a SENNEBOGEN 870 R-HD material handler has become a "curse and blessing" for a busy Ohio River stevedoring company. "Blessing: It's twice as fast as the lattice boom cranes were. Curse: Everybody wants it," explains Wayne McDonald, Chief Operating Officer of Mt. Vernon Barge Service. "Customers see we can empty a barge in four hours now instead of eight, and they ask, 'How come I can't have it?' Everybody wants it."
According to Don Miller, President of Mt. Vernon Barge Service's parent TPG Marine Enterprises, the SENNEBOGEN 870 R-HD has proven 55% faster than the lattice boom cranes that had been used to primarily load and offload everything from fertilizer and coal to soybeans and corn at the busy Mt. Vernon docks in south-western Indiana. "As our tonnage grew, it became obvious that our lattice boom cranes weren't going to be able to get the job done," says Miller. "They were old, and the more we used them, the more breakdowns we were having, which meant high repair and maintenance costs as well as excessive downtime." The solution was found at the nearby Evansville location of Brandeis Machinery & Supply Company, a multi-line equipment dealer from which Mt. Vernon Barge Service had previously bought smaller pieces such as pumps. "We knew we had to do something," says Miller, "but we also knew it was going to be a major investment, so we had to get it right the first time. Our Purchasing Manager, David McDonald, spent the better part of a year looking at all the alternatives for reliability, capability, reputation – everything. In the end, we decided the SENNEBOGEN provided the best overall value."
At 204,400 lbs. (93 tonnes), the multi-purpose SENNEBOGEN 870 R-HD offers reach up to 66 ft. (18 m) and handles magnets as large as 84 inches and grapples up to 4 cu.yds. for traditional scrap handling applications. Along the busy Ohio River in south-western Indiana, it's proven to be a cargo-handling dynamo. "I've been doing this for 30 years, and this machine is great," says machine operator Jim Clayton. "It's 100 times better than our lattice boom cranes." Operators and customers alike "can't believe" how much faster the SENNEBOGEN is, says Wayne McDonald. "For the customer, this is a big deal; it gets them in and out so much faster. When the barge comes in, we get three free days to load it or offload it. After that, we pay a barge line daily penalty. That's incentive."
"If we go straight to the pier with the SENNEBOGEN, we could probably do two barges in a 12-hour day. With a lattice boom crane, you could do one in about a 9 or 10-hour day," he says. "our lattice boom crane had a 7-yd. bucket. Our SENNEBOGEN has a 5 yd. bucket, which shows you that the cycle times are just so much faster with the SENNEBOGEN." This production boost has actually altered operations at Mt. Vernon Barge Service. "Sometimes, we now can go direct to the trucks, rather than having to offload on the pier and using a front-end loader to load the trucks, which takes longer and costs the customer more for use of the loader," he says. "Going direct to truck saves time and money. The biggest problem we have now is waiting on trucks."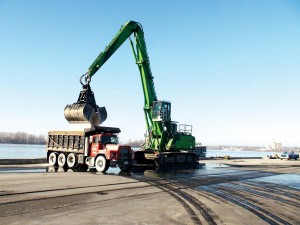 A company on the move
The addition of the SENNEBOGEN 870 R-HD material handler exemplifies the commitment TPG Marine Enterprises has made to promote Mt. Vernon Barge Service to the fore of the Ohio River cargo industry.
After beginning his career with the public port industry in Oregon and later serving as CEO for Ports of Indiana, Miller and his partner, Dan Altman, formed TPG nine years ago. Shortly thereafter, they decided to get into river operations, purchasing Mt. Vernon Barge Service from Art Bayer, who had founded the business in 1961. "Art was a friend and a southern Indiana river legend," says Miller. "He was 82 and ready to retire. From my previous positions with the Ports of Indiana, I knew Art and I knew Mt. Vernon Barge was a well-run company with a solid performance history. We also felt it presented good opportunity for growth."
TPG Marine quickly turned that opportunity into reality. When Miller and his team took over operations in 2006, Mt. Vernon Barge Service had one location, four boats and about 40 employees. Today, the company has five locations, 14 boats (12 tugs and two repair/harbour maintenance crafts) and about 150 employees. "We've been aggressive in developing partnerships along the river," says Miller. "We believed there were a number of companies and areas that could use our services and expertise, and that's turned out to be the case. We've hired many people with great backgrounds in barge-related harbour services to make sure we meet the needs of customers in all of our locations."
Mt. Vernon Barge Service provides harbour and fleet-management services, barge repair and cleaning at all five facilities. For significant repairs, it has the only two full-size dry docks on the Ohio River between Mile 606 and Mile 846.
When Mt. Vernon Barge Service itself needs service, it has come to rely on SENNEBOGEN dealer Brandeis Machinery & Supply Company. "They've been Johnny-on-the-spot. Any issue, they take care of us," says Wayne McDonald. "In fact, Brandeis was a big reason we went with SENNEBOGEN in the first place." The trust factor with the dealership is high, concurs Miller. "Because we don't often deal with machines like the 870, we needed to depend on a dealership with a high level of expertise in river trans-loading operations and somebody who could explain the ins and outs of it. Our Brandeis sales rep, Dustin Olander, was able to do that in a way that reassured us and gave us confidence that it would do what we needed it to do." And the SENNEBOGEN 870 R-HD has. "Our operators love it for the comfort," says McDonald, "and our customers love it for the speed." According to Gary Hirsch, Brandeis V.P. and General Manager, Mt. Vernon Barge Service recently ordered a second SENNEBOGEN. This time it will be a used 870 M that is in the process of being rebuilt by Brandeis at their Louisville Rebuild Center which specializes in SENNEBOGEN refurbishing/rebuilding.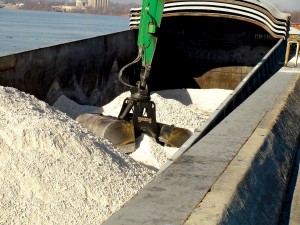 About Brandeis Machinery & Supply Company
Brandeis Machinery & Supply Company, founded in 1908, is a subsidiary of Bramco, Inc., headquartered in Louisville, KY, along with Power Equipment Company, headquartered in Knoxville, TN. Bramco is one of the largest multi-state construction, mining, material handling and processing and earthmoving equipment distributors with 14 full service branches throughout Kentucky, Indiana, Tennessee and northern Mississippi.
About SENNEBOGEN
SENNEBOGEN has been a leading name in the global material handling industry for over 65 years. Based in Stanley, North Carolina, within the greater Charlotte region, SENNEBOGEN LLC offers a complete range of purpose-built machines to suit virtually any material handling application. Established in America in the year 2000, SENNEBOGEN LLC has quickly become a leading provider of specialized equipment solutions for recycling and scrap metal yards, demolition, barge and port operations, log-handling, transfer stations, waste facilities and the tree care industry from coast to coast. A growing network of distributors supports SENNEBOGEN LLC sales and service across the Americas, ensuring the highest standard of professional machine support and parts availability.
For more information on the full line of SENNEBOGEN green line material handlers, contact:
SENNEBOGEN LLC
1957 Sennebogen Trail
Stanley, NC 28164
Tel: (704) 347-4910 or fax (704) 347-8894
E-mail: sales@sennebogenllc.com