DC Contractor Cleans Up With SENNEBOGEN To Cut Demolition Costs
Washington, DC – Ross Tumulty didn't know he needed a SENNEBOGEN material handler in his demolition fleet. Now that he has one, the SENNEBOGEN way has become his company's way to complete demolition jobs more efficiently and profitably.
Tumulty is the President and founder of Celtic Demolition Inc., a full service commercial demolition company serving the metropolitan Washington, DC area since 1985. Well experienced in complicated and challenging demolition projects, Tumulty and Celtic have been leaders in adopting processes that achieve the most demanding goals for cost-efficiency and recycling.
"We had an opportunity to quote on a very large job, a 700,000 sq. ft. building demolition, but the customer would not allow any onsite crushing to take place."
Celtic needed a new solution to truck all the concrete to a recycler off the demolition site for crushing. The new process led Tumulty to SENNEBOGEN.
"We have an excavator with a concrete pulverizer to do the primary demolition, and a loader to build stockpiles of the material," he explains. "The SENNEBOGEN machine then sweeps the piles with a magnet to separate the metal and load it into a container."
Recovering costs
Tumulty realized that delivering cleaner concrete to the recycler would reduce his dump fees, while selling the recovered metal from the concrete created a new revenue stream to offset project costs. "I talked to some of the scrap metal recyclers I know, and they all said SENNEBOGEN was the best machine for the job."
The new unit in the Celtic fleet is an 821 R-HD green line material handler fitted with a 48" scrap magnet. The 821 R-HD is a compact 55,000 lb. model mounted on crawler tracks and features the elevating SENNEBOGEN maXCab.
Tumulty reports that he was "pleasantly surprised" by the results of the project. "The shipped concrete is, I would say, 98% free of metals. It's so clean that our recycler took $5.00 a load off his original quote, just because he liked the material!"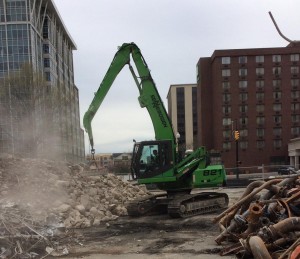 A versatile solution
Once it arrived on site, the project manager found more work for the new material handler. A second application, loading sheet metal scrap into trucks, especially benefited from the elevating cab. As Tumulty points out, "Having a bird's-eye view into trailers is especially helpful for moving bulky material into the trailers. The high perch lets you see how you're loading the material; you can be more accurate and build the load evenly."
Although the SENNEBOGEN machine was purchased for a solution with a specific need, Celtic now sees the new process as the go-to approach for moving and recycling material from the worksite. "Now that we've seen what we can do, it makes sense for us to continue this way. Our new process with our SENNEBOGEN doesn't take up as much room on the jobsite as a crushing and screening plant. This makes it a safer and more cost effective way to operate. It's a great tool for us; we are the only ones using it in the area and it gives us an advantage when we're quoting."
About SENNEBOGEN
SENNEBOGEN has been a leading name in the global material handling industry for over 65 years. Based in Stanley, North Carolina, within the greater Charlotte region, SENNEBOGEN LLC offers a complete range of purpose-built machines to suit virtually any material handling application. Established in America in the year 2000, SENNEBOGEN LLC has quickly become a leading provider of specialized equipment solutions for recycling and scrap metal yards, demolition, barge and port operations, log-handling, transfer stations, waste facilities and the tree care industry from coast to coast. A growing network of distributors supports SENNEBOGEN LLC sales and service across the Americas, ensuring the highest standard of professional machine support and parts availability.
For more information on the full line of SENNEBOGEN green line material handlers, contact:
SENNEBOGEN LLC
1957 Sennebogen Trail
Stanley, NC 28164
Tel: (704) 347-4910 or fax (704) 347-8894
E-mail: sales@sennebogenllc.com